It's hard to believe that it was 1973 when this picture was taken in front of the old KJR studios on West Waterway.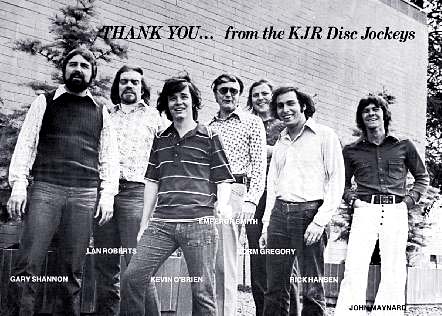 Gary Shannon is a DJ at a radio station somewhere in the deep south.
Kevin O'Brien(Kevin Metheny) is Prog Dir at an all talk station in Ohio.
Emperor Smith passed away in October due to skin cancer.
Norm Gregory is at KJR still trying to be Normal.
Ric Hansen has a successful dance business in the Seattle area.
John Maynard was thought to be parking cars at Canlis restaurant.
In 1964, as a joke, I mentioned on the air that if listeners would send me a letter then I would send them a "Lil Green Thing With a Picture of a Duck on It". After two days I had received over 10,000 requests so I figured I had to do something quick. I bought an entire block of green cloth, cut it up in small pieces and stamped it with a picture of a duck. Just so there would be no confusion I also stamped "Lil Green Thing"on it. One of my former listeners, Jim Wirth, wrote me recently that he still had his among his high school memory books. He sent me this picture of it. Thanks Jim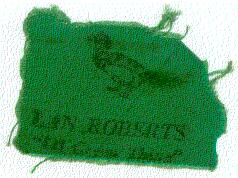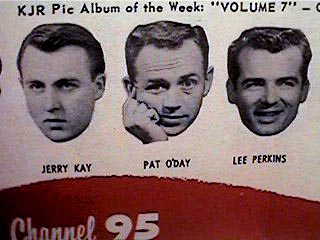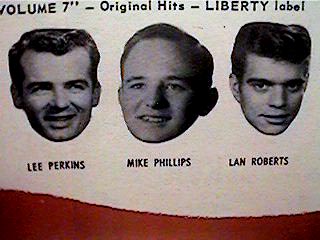 The KJR Fab 50 music sheet published weekly and available at your favorite record store. Notice how serious Jerry Kaye/Kay was looking at the time.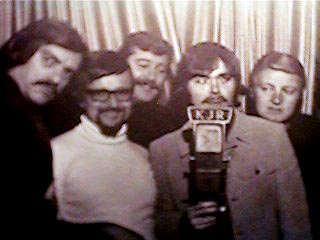 No it's not the old Doris Day cover the lens with gause trick so they won't notice her freckles. It's just the best tweaking that I could do with this old photo recently discovered thanks to Buzz Barr. Left to Right are........Lan, Mike Phillips, Jim Martin, Tom Murphey, and Buzz Bar.
If you wonder where a lot of DJs that you used to listen to are located now please click on the button below and you can find out.